Served on the Club Committee
1987,  1988,  1989,  1990,  1991,  1992,  1993,  1994,  1995,  1996
–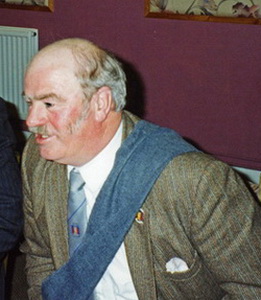 –
Bert became a member of 'Let it Blaw' in 1984 and was first mentioned in Toast List/Programme 1987. 
Long remembered as a gamekeeper up in the Pentlands, Bert hadn't kept the best of health in recent times but was still an oft seen character around the village. He's long been associated with one of Let it Blaw's great mysteries as to how at least 15 cronies all went home from a supper in the early 1990s with the wrong 'Argyll' or 'Braemar' kilt jackets. He always denied responsibility ……. with a big smile on his face.
Bert died suddenly yesterday, on 8th May 2020, after a short illness; a victim of the Covid-19 virus. 
–