The 2020 Coronavirus pandemic has thrown many challenges at the Club Committee not least how to meet while complying with Government restrictions.
The Committee Meeting scheduled for April 2020 was postponed four times until, on 17th August 2020, 'Let it Blaw' broke new ground by holding the meeting online by way of a 'Zoom' call.
Our Bard, Andy McGowan, had a few thoughts on the matter.
–
–
And so our meetings continued online; the committee in September, then the AGM, the committee in December and January before ………
…… after much planning, Let it Blaw met on Saturday 23rd January 2021 for our annual Supper. The following report was published in the 'Currie & Balerno News.'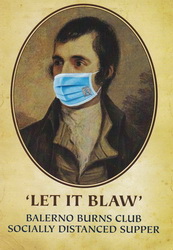 "It being 113 years since 'Let it Blaw' had to cancel an annual supper (world wars excluded), a decision was made back in November that despite COVID issues, the show had to go on. So, on 23rd January 2021, 65 Club Members in their homes, gathered online for a Supper that while proving a challenge to stage, resulted in what has been universally viewed a success. The evening was started by Club President, Iain McSporran QC in Haddington welcoming all present and calling for the Haggis.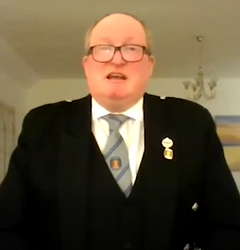 Club Piper, Kerr Cowan Snr. piped in the haggis at his home in Stockbridge before Iain Downie, in Maghera, Northern Ireland, gave the Address.
By the rather sedate speed of progress at 'Let it Blaw' over the previous 140 years, this was all a "serious development." The Toast to "the Immortal Memory of Robert Burns" was proposed by Raymond Ward and the Appreciation for Raymond's Toast given by John Cox.
The "Toast to the Lasses" was proposed by Brent Hurley and the reply given by Alex Cox. The Toast to "Let it Blaw," our Club, was proposed by Iain McSporran QC and was followed by the singing of the "Balerno Song" by Alex Hood.
The Toast to "New Members & Guests" was proposed by Max Downie with the reply from Mike Erskine. The final Toast of the night to "Chairman, Croupiers & Artistes" was proposed by Donald John as if it wasn't enough for him to be hosting the Zoom call that was holding the whole evening together.
The "Bard's Oration," giving views on the recently departed American President, was presented by Andy McGowan in his inimitable manner.
–
Ken McDonald gave an excellent rendition of "Tam o' Shanter" and Ian Duncan gave a presentation of "Holy Willie's Prayer." Greg McCarra sang "Now Westlin Winds" and Alan Prior sang "My Luve is like a Red, Red Rose." "Ae Fond Kiss" was sung by Charlie Husband and "Ye Banks and Braes o' Bonnie Doon" by Roy Cook. Jim Weatherston sang "Is there for Honest Poverty" before the first Toast and led "The Star o' Robbie Burns" after the final Toast before Chairman, Iain McSporran, led the company in "Auld Lang Syne."
Our 'Supper' only lasted for three hours; less than half expected any other year. All present, although sorry it was so short, agreed it was probably sufficient for such an online Gathering; we'll just have to make up for this lost time in 2022.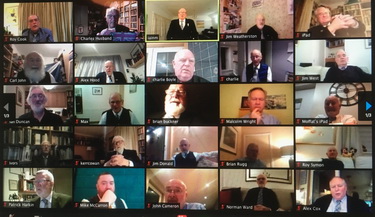 Message from the First Minister
On Monday 25th January 2021, Scotland's First Minister, Nicola Sturgeon MSP, took the opportunity during the daily coronavirus briefing to thank organisers of 'virtual Burns Suppers' for arranging events to help people stay safe while restrictions are in place.
She said "Monday January 25 marks Burns Night, a celebration of the life and poetry of Robert Burns. While traditionally many would get together to enjoy a Burns supper, gatherings are not possible under current coronavirus restrictions. Virtual events took place over the weekend with more on the way this evening. I'd like to thank everyone who helped to arrange those, whether they were major online events for the public, or small scale virtual events for family and friends.
Virtual events are not the same as getting together physically to celebrate special occasions, but are a really good way of enabling us to stay safe while marking important occasions in the calendar."
–
Visit Supper 2021 to see the full gallery of of our 2021 Supper Photographs
–