William K. Bixby (1857 to 1931)
The Man said to be able to identify a forged Robert Burns letter by the use of an inappropriate capital letter T !
—
Publisher of "The Geddes Burns"
—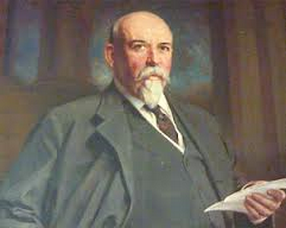 William K. Bixby
W. K. Bixby started work as a baggage handler at the age of sixteen in the town of Palestine, Texas. Described in his early years as being "precocious and driven", Bixby's start in a humble position in railroads ended with him becoming a multi-millionaire railcar industrialist by the time he retired in the highest position of the company. During his years working for the railroad, three towns along the routes were named after him; Bixby in Illinois, Bixby in Missouri, and Bixby in Texas.
Though he only had a high school education, his appetite for learning was prodigious and he received an honorary Master of Arts degree from Amherst College, and an honorary Bachelor of Law from the University of Missouri. He was also granted Honorary Membership of the Phi Beta Kappa Society, the oldest Society for the Liberal Arts & Sciences in America.
As a boy, his intelligence and charm soon caught the eye of the company president who took Bixby with him to St Louis. W.K. Bixby as he liked to be known, became an imposing figure; quite tall, rotund, with piercing dark eyes. Success led to success. In St Louis, Bixby switched from railway management to railroad car manufacturing where he would make his fortune.
In 1899 Bixby worked to consolidate eighteen companies into the American Car & Foundry Company. The Company owned all aspects of railroad car production from ore deposits and timber tracts to furnaces and mills to the car building shops. From plants around the USA, the Company shipped passenger and freight cars all over the world for an annual gross turnover of $75 million. Bixby later served as President of the Laclede Gas Company and Director of several St Louis banks. In 1905, having accumulated a fortune, Bixby stepped down from the Company to devote himself to his family, philanthropies and collections.
However, for all his honours and successes, Bixby made his greatest mark as a philanthropist. His name lives on in St Louis in the William K. Bixby Hall at Washington University, St Louis and in the William K. Bixby Trust for Asian Art at the St. Louis Art Museum. He applied himself as diligently to his collections as he had to his businesses receiving equal, if not better results. Literature intrigued him in addition to Art. His Library of original manuscripts was said to be among the finest in the country, second only to that of J. P. Morgan .

William K. Bixby was a great admirer of the works of Robert Burns. He became an expert on the subject and it's said he could identify a fake Burns Letter by the use of an inappropriate capital letter T.  He was the founder of the Burns Club of St. Louis. A report of the 1918 Burns' Night celebration can be found at Burns Club of St Louis.
Bixby's discerning eye and photographic memory led him to amass a major collection of fine art. His estate included works by Rembrandt, Frans Hals and Camille Corot. The curator of the St Louis Museum of Asian Art, Steven Owyoung, called Bixby's Song Dynasty Scroll "one of the greatest works in the museum". Bixby had brought it back from an extended tour he took in East Asia in 1919 for the purpose of buying artworks both for himself and the new Museum.
In 1921 Bixby sold his collection of books to the Henry E Huntington Library and Museum, now just known as the Huntington, California for $2 million so his Treasures could be stored in a fireproof library. His collecting continued with, for example, him paying $35,000 for Charles Dickens' original love letters, said to be the inspiration for "David Copperfield," generously sharing such manuscripts.
The St Louis Art Museum was not the only recipient of Bixby's largesse: His philanthropies touched Art, Education and Social Welfare. A 1925 St Louis news report commented " Mr Bixby has contributed liberally in work and money to this City's art life. His great wealth has enabled him to be generous in a material way, but he has been equally generous of his time and enthusiasm. St Louis has seen pictures it would never have seen except for Mr Bixby, and the Bixby Hall of Fine Arts, his princely gift to Washington University, will be a permanent inspirational influence.
A 1939 biography states that Bixby gave the Missouri Historical Society around 50,000 manuscripts "including one of the largest collections of Thomas Jefferson letters in America, the original Burr-Hamilton duel correspondence, extensive civil war data, autographs and portraits of every President of the United States, and personal items relating to Eugene Field, Andrew Jackson, Sam Houston and other distinguished Americans."
He served twice as President of the Board for the Missouri Historical Society from 1907 to 1913, then again from 1925 to 1930. In 1928 he was elected President of Washington University but was too ill to serve in anything but name.
Throughout his life Bixby was devoted to his family. He and his wife, Lillian Tuttle Bixby, had seven children who they raised in a mansion he had built at 13 Portland Place, St Louis in 1896. One way they kept their children and grandchildren close was to summer together every year at a house they built on Mohican Point on Lake George in Upstate New York, Lillian Bixby's birthplace. It was at his home at Mohican Point that both Lillian and William died, three months apart, in August and October 1931 surrounded by their children.
The Missouri Historical Society, the St Louis Art Museum and Washington University's School of Fine Art closed on the day of his funeral. Both Bixbys are buried in the family mausoleum in Bellefontaine Cemetery along with many of their children and grandchildren. Only Stella Fresh Bixby, wife of Bixby's son William H. Bixby, is buried outside the mausoleum on the family plot because, according to family legend, she didn't want to be shut up inside.
William K. Bixby never lost site of the importance of family and friends. As museum curator Steven Owyoung so aptly expressed, "Mr Bixby was an Extraordinary Man, larger than life, but down to Earth".