"On this day the Club held their annual Excursion to the "Queen of the South", Dumfries,
travelling by Special Saloon Carriage from Midcalder.
Dumfries c.1889
–
The company numbered 11 and consisted of the following Gentlemen :
Thomas Shade
Alexander McLeish
Mr Forrest
Mr Hendry
"After arriving at Dumfries the party drove by brake to New Abbey which was very enjoyable, the day being pleasant and the Company cheery.
         A "Brake" c. 1905
New Abbey c.1900 
Returning, dinner was partaken of in the King's Arms Hotel which was splendidly purveyed by Mrs Ashley, the proprietor.
–
The Kings Arms Hotel, c.1939
–
Thereafter, the Company got photographed by Mr Moryson.
[ Thomas A Moryson, an Irishman settled in Dumfries, was a very accomplished photographer in his day. ]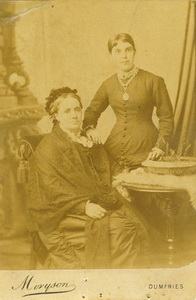 This photograph c.1880 is the work of Moryson and features Jane Emma Burns & Jean Armour Burns Brown,
the Grand-Daughter and Great Grand-Daughter of Robert Burns.
–
A visit was made to several of the interesting places associated with the poet's name in the town.
The party returned in the evening all highly pleased with the day's outing."
Extract from Club Records written by Secretary John Fairbairn