Honorary Member of 'Let it Blaw'
–
Treasurer
1984,  1985,  1986,  1987
–
Assistant Secretary/Treasurer
  1977,  1978,  1979,  1980,  1981,  1982,  1983
–
Proposer of the Toast  "The Immortal Memory of Robert Burns"  1975
Proposer of the Toast  "Let it Blaw – the Balerno Burns Club"  1976
Proposer of the Toast  "The Lasses"  1981
Recited the Address  "To a Haggis"  1982, 2015
Proposer of the Toast  "The Landlord – Landlady"  1983,  1987
Proposer of the Toast  "New Members"  1985
—
Served on the Club Committee
—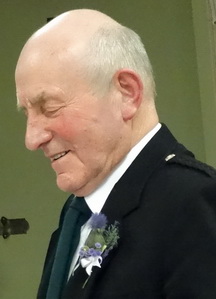 John first attended 'Let it Blaw' in 1959. He was the son-in-law of Willie Shand.
In January 1959, John walked from Deanpark to the village accompanied by his father-in-law Willie Shand who was heading for 'Let it Blaw' where he was the Club Piper. John had been dispatched by his wife and mother-in-law to get three fish suppers for their evening meal. In the Main Street, they met Club President Bertie Tennant who told them there had been a call-off creating a vacant place at the Supper. John was asked if he would like it. He duly ran to the fish shop, got only two fish suppers, ran home with them for the ladies, then ran back to the Malleny Arms in time for the 1959 Supper. That was the start of a lifetime of Burns.
In the early 1970s, when the Club was at it's lowest point with hardly any members left, together with late President Eddie McCue and the never to be forgotten Willie Shanks BEM, John helped bring the Club slowly back to life, later seeing it flourish to where it is today with over 100 cronies attending the annual supper.
Together with Eddie, John founded the "Benidorm Burns Club" which celebrated the Bard just after New Year each year during their winter holiday leaving plenty time for everyone to get back to Balerno for the serious stuff.
John left Balerno retiring to North Berwick, but maintained connections with his many friends in the village and returning to 'Let it Blaw' periodically as a guest.  He is perhaps best known for his renditions of "To a Mouse" accompanied by a mouse running about on his book of Burns work. It's hard to guess how often he's given this oration at our Supper because he did it year after year in the 1970s and 1980s usually without it being recorded on the programme; it might be reasonable to guess 20+ occasions.
John returned to 'Let it Blaw' at the 2014 Supper and brought along the latest reincarnation of Robbie's Mouse.
At the 2019 Supper, President Iain McSporran gave the company a review of John's 60 year association with 'Let it Blaw' and called for a show of hands in support for the anniversary being marked by John being granted Honorary Membership. It was unanimously approved.
–
It's with deep regret that I have to announce the death of John Mathers on 26th May 2022.
The funeral cars will leave "Brows" at 2:15pm on 14th June 2022 driving to Currie Kirkyard for a graveside service at 2:30pm.   All are welcome at the Service, and back at "Brows" thereafter.
The Club will be represented by Carl John, Raymond Ward and Peter Henderson Jnr.
Your presence with them will be welcomed.
The Club will be r
Alex J Hood
(President)
–