John Fairbairn, son of Founder Member James Fairbairn Snr, was one of "the Twenty-three Gentlemen" present at the first 'Let it Blaw' in 1881. He was appointed Club Secretary, a post he held for 52 years. The existence of our extensive early Club records is the result of John Fairbairn's long, dedicated and conscientious service………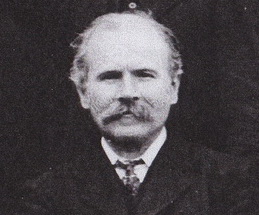 Born 16th January 1856 in Balerno
Died 1st March 1939 at Garden Acre, Balerno, aged 83
—
Not a 'Founder Member'
but was in attendance at the Club's first Supper in 1881
–
President
1893
—
Secretary
1881, 1882, 1883, 1884, 1885, 1886, 1887, 1888, 1889, 1890, 1891, 1892, 1893, 1894, 1895, 1896, 1897, 1898, 1899, 1900, 1901, 1902, 1903, 1904, 1905, 1906, 1907, 1908, 1909, 1910, 1911, 1912, 1913, 1914, 1915, 1916, 1917, 1918, 1919, 1920, 1921, 1922, 1923, 1924, 1925, 1926, 1927, 1928, 1929, 1930, 1931, 1932
—
Croupier 1905
—
Proposer of the Toast "Absent Friends" 1886, 1907, 1911
Sang the Balerno Song
1891, 1892, 1893, 1894, 1895, 1896, 1897, 1898, 1900, 1902, 1903, 1904, 1905, 1907, 1908, 1909, 1910, 1911, 1912, 1914, 1920, 1921, 1922, 1923, 1924, 1925, 1926, 1927, 1928, 1929, 1930, 1931, 1932, 1933, 1934, 1935, 1936, 1937, 1938, 1939
Reply to the Toast "Commercial Interests of the District"
1887, 1891, 1909, 1914, 1927, 1931
Proposer of the Toast "Agricultural Interests of the District" 1894, 1923
Proposer of the Toast "Commercial Interests of the District" 1902
Reply to the Toast " Let it Blaw – the Balerno Burns Club" 1904, 1925, 1926
Proposer of the Toast "New Members" 1908, 1921
Reply to the Toast "Other Scots Poets" 1920
Proposer of the Toast "Kindred Clubs" 1924
Proposer of the Toast "Our Hosts" or "The Landlord – Landlady" 1934
—
Served on the Club Committee 1937
—
John Fairbairn was the third and youngest son of Let it Blaw's Founder Member James Fairbairn Snr. John appears to have been the clever one in the family as, while his brothers followed their father into the building trade, John was working as a clerk at Balerno Mill when the Club was founded in 1881.
When a Committee was formed in 1883, John was appointed Club Secretary and given the job of writing a report of the first two Club Suppers. He was one of "the Twenty-three Gentlemen" who attended the first Supper of 'Let it Blaw' in 1881. Thereafter, he kept handwritten minutes and reports on Club activities through to 1932 when he stepped down from his Secretarial role. He continued to attend the Suppers until the 1939 event a couple of months prior to his death and sat on the Committee for two of those years, by that time in his eighties. John worked at Balerno Mill all his life and was the cashier there when he retired.
Perhaps an example of the significance of John's role in early Club affairs is that when George Y. Robertson, the Club Bard, presented a collection of rhymes at the 1891 annual Supper and mentioned many prominent members of the Club, John Fairbairn was one of those included. The presentation was printed by Club Member A. G. Moir and a copy included in the Club Minute Book. The layout has been adapted for our website and can be viewed at Ragged Rhymes .
Although John will always be remembered for his Secretarial work, he was President & Supper Chairman in 1893, regularly proposed Toasts, and contributed songs to the harmony at the annual Suppers as early as 1882. He will also be remembered as the man who sang The Balerno Song for many years at our annual suppers. It was sung at our first supper in 1881 by the first Club President, James Pearson Snr. John took over from him at some point prior to the 1891 Supper, and continued to sing the song until his last Let it Blaw supper in 1939 after which Harry Rankin took over the task.
Click on this link to read of a presentation to John Fairbairn on 28th September 1916
In an article regarding the 1920 Supper in the "Midlothian Advertiser" the following was recorded as part of John Fairbairn's Report : "The Club is now in its 40th year, the first Chairman being the late James Pearson Snr. There are now only two original Members, Thomas Horsburgh and himself (John Fairbairn).
His bother, David B. Fairbairn, was President of the Club on many occasions, and a regular contributor at Club events. His oldest brother James Fairbairn Jnr. a contributor at early Suppers, is also believed to have attended the first Club Supper with their father.
Is John Fairbairn's 52 years of service as Secretary a record within the Burns movement ? Click on this link to read the answer.
John stayed for many years at Garden Acre in Balerno (the house is still there) and it was there, at home, that he died in 1939 aged 83 years.
–